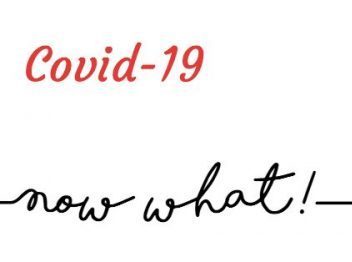 WHAT NOW ? expect the unexpected !
After receiving the first tangible Coronavirus Guidance for Apprenticeships from Government, we are continuing to raise the impact of the virus on short and long term capacity, viability, and delivery of apprenticeship programmes.
With every sector now affected, the underlying messages from week commencing 23 March are a starting point only:
– Ensure that employers do not STOP or PAUSE apprentices on the Apprenticeship Service before any changes are agreed. Stopping or pausing the apprentice record during the month will result payments stopping for the whole month, even for delivery that has taken place before the break-in-learning (BiL) was agreed.
-Work with employers if you can, to adjust their apprenticeship delivery schedule and keep the apprentice on programme and in learning.
– Unless the pause is confirmed as lasting more than 4 weeks, you may want to wait for this time to elapse before instigating the BiL in case circumstances change i.e. the self isolating apprentice returns to work.
– Where neither of the above are possible, whatever the reason, and whether the apprentice is on programme or waiting for their EPA use the BiL from the start of the following month to record this change – and ensure that this is synchronised with the employer action on the Apprenticeship Service.
– Continue communications with both employer and apprentice wherever possible to help the transition back into the programme, and we hope, help minimise withdrawals.
Having raised the impact of nursing apprentices and programme teaching staff being pulled back to the front line some weeks ago, we were pleased to see the belated acknowledgement that loss of staffing capacity in apprenticeship providers is now an acceptable criteria for triggering a Break in Learning.
We are continuing to raise these and other implications from Coronavirus with ESFA, IfATE and DfE, and to propose what we believe are pragmatic, and in some cases simply fair mitigations, where these arise.
We want to hear from you about how you are affected and what you believe needs to happen. Our current priority list includes:
1. The relevance of End-point Assessment in some sectors and for some apprentices, particularly those in Nursing, who will have already demonstrated their full competency in the most challenging of circumstances
2. The revenue for training already delivered for apprentices who have passed gateway that is now locked within the 20% final payment which we may now lose or experience significant delays in realising due to EPA delays and subsequent backlog
3. The impact on SMEs of the 3 month reservation window expiring for pre-booked places
4. The likelihood of significant volume of apprentices not returning or not starting planned apprenticeships on revenue and staffing levels
5. The impact of non-returners on Qualification Achievement Rates and other KPIs, including Ofsted and QAA reviews
6. The impact of everything on this list on the overall viability of programmes into the future– we need extraordinary responses for these extraordinary times.
WHAT NEXT ?!
ASK US / TELL US:
Please let us know how you are doing: email your concerns, tell us what you've heard, send us what you've seen, share whatever is working successfully for you and we'll circulate this amongst members. Email Rebecca (e) [email protected] or call (t) 07720 888 149
JOIN IN:
ESFA communications often take place on a Thursday so to help us reflect on this week's new challenges, we will be running a 45 minute webforum session every Friday at 12.30 starting on 3rd April (then on Thursday 9th next week due to Easter). You can register and join this week's session HERE
Dial in to the session to ask questions, or equally importantly just to share what you know, or hear from others about what is working on the ground and confirm latest guidance. As ESFA often publish on Thursdays we hope to share latest news at this session, raising issues for clarification with the ESFA afterwards.
READ MORE:
We'll use your email and webforum kit queries to create a rolling FAQ, publishing answers as you tell us about what you've advised to do by the ESFA helpdesk or others, or we source responses from ESFA and other partners. We'll update the FAQ each week after the Friday session.
Finally; thanks to Alex Morrison from Bucks New University for sharing the latest HEE advice for Nursing.
USE The Centre for Degree Apprenticeships FORUM
Post your questions, frustrations, solutions or upload content on the Forum to create a legacy, build knowledge and provide a network of support as intended.
Send us other notifications, responses and instructions that you have received, or documents and guides that you've produced; and we'll share these too.
As we all adjust to different ways of working, we are overcoming new challenges and finding new ways of doing things. Some things are unchanged though, and we know that our members' commitment to its learners and employers will be undiminished.
We're equally sure that our commitment to one another will be unfaltering. As a sector, we are characterised by our sense of community and willingness to share our ideas with one another, and whether we are working in our institutions or remotely, that instinct won't change or become any less important.