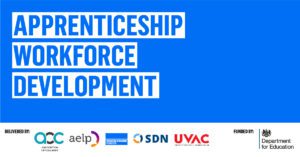 As you may be aware, we are one of the delivery partners for the DfE funded Apprenticeship Workforce Development (AWD) Programme for all providers of apprenticeships and for all staff involved in their delivery, support and growth.
Applications are now open for the Apprenticeship Workforce Development (AWD) programme's practitioner improvement and collaborative project opportunities.
These six-month projects provide an invaluable opportunity to receive funding to explore approaches for improving the quality of apprenticeship delivery.
Two separate project types are on offer: practitioner improvement projects are small-scale projects open to individuals, while collaborative projects require a minimum of three partners. Successful applicants will have access to £5,000 in funding for individual practitioner improvement projects, and £20,000 for collaborative projects.
These projects will provide a 'safe space' to research and experiment with new approaches to support quality improvement. You will have the opportunity to meet with like-minded colleagues and share ideas and effective practice. You will be supported throughout your project by our AWD Project Mentors, who will provide advice and guidance on:
Understanding research and project processes

Defining project-specific evaluation indicators

Project set-up

Project methodology, requirements, and professional standards

Monitoring project progress

Project outputs: qualitative, quantitative and products

Reporting and dissemination
The final deadline for project applications is 17 March, and grants will be awarded from 23 March.
A project lead induction and development day will take place for successful applicants on 29 March. Participants will then have six months to complete their projects, with final reports due on 6 October 2023.
To find out more about these projects and how to apply, REGISTER for our upcoming webinar hosted by AWD colleagues from AELP and AoC on Tuesday 28 February at 10.00-10.45. Please feel free to share the invitation to this webinar with colleagues.
To apply for a project, download the application form and guidance available HERE and submit to [email protected] by 5pm Friday 17 March.
Funded by the Department for Education (DfE), the Apprenticeship Workforce Development programme is being delivered by the Education and Training Foundation (ETF) in partnership with the Association of Colleges (AoC), Association of Employment and Learning Providers (AELP), Strategic Development Network (SDN), and the University Vocational Awards Council (UVAC).